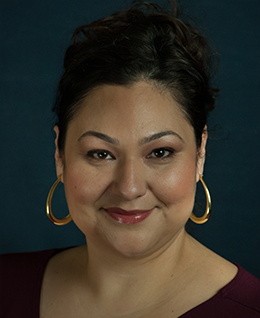 Education
: Masters of Arts in Counseling Psychology
Institution
: Northwest University
Area of Specialty
: Ethnic Minority Mental Health Specialist; Multi-Cultural Issues; Womens Issues; Trauma; Anxiety; Depression; Behavioral Issues
Languages
: English and Spanish
​Rosie Martinez began working at Sea Mar's Residential Treatment Center in Tacoma, WA as an administrative assistant and admissions coordinator in July 2000 through November 2006. Later, Rosie returned to Sea Mar's Behavioral Health Center in Puyallup, WA as a mental health therapist in December 2012. After holding the position of licensed mental health therapist at Sea Mar's Behavioral Health Center in Bellevue, WA she was promoted in 2016 to the role of clinical supervisor of Sea Mar's Seattle Behavioral Health Center. In 2017, Rosie became the program manager of Sea Mar's Federal Way Behavioral Health Center.

In 2010 Rosie graduated from the University of Washington in Tacoma, WA with a bachelor's of arts degree in psychology, education, and Latin American studies. During her time in undergraduate school she worked with maternity support services teams to provide education and resources to Latina mothers and their children.

In 2012 Rosie graduated from Northwest University in Kirkland, WA with a master's of arts degree in counseling psychology. During her time in graduate school she was a mental health therapist intern at YouthCare's CASA program providing mental counseling for undocumented youth ages 12-17.

Rosie provides an eclectic, person centered, and realistic approach to counseling, using at different times, Psychoeducational Therapy, Narrative Therapy, Existential Therapy, Solution Focused Therapy, Psychoanalytic Therapy, Cognitive Behavioral Therapy, Trauma Therapy, and Dialectical Behavior Therapy among other therapeutic approaches. Rosie's work experience includes working with children, youth, adults, families, in counseling, educational, medical, church and case management settings.

Rosie believes that apart from solid therapeutic approaches it is the trusting relationship between the mental health therapist and the client that can bring healing and change to the client's life. Mental health counseling is a relationship where two individual's energy and knowledge is completely invested into one individual – the client. Investing in counseling can be one of the most loving things one does for oneself.

Aside from work, Rosie enjoys quality time with family and friends, as well as time alone, nature walks, foreign film, food and music, long distance travel, and dance. In addition, she has a personal goal of becoming a Zumba instructor at some point in the future.