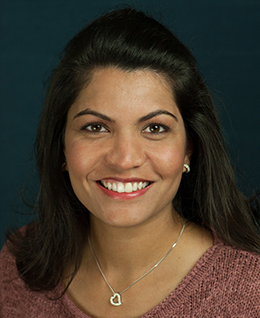 Education
: Doctor of Medicine
Institution
: Universidad Iberoamericana, Santo Domingo, Dominican Republic
Board of Certification
: American Board of Pediatrics
Residency
: Cooper University Hospital of University of Medicine and Dentistry of New Jersey; Robert Wood Johnson Medical School, Camden, New Jersey
Area of Specialty
: Pediatrics
Languages
: English, Hindi/Urdu, Punjabi, Spanish
Dr. Faiza Iram began practicing medicine at Sea Mar's Bellingham Medical Clinic in 2014. Before joining Sea Mar, Dr. Iram completed her pre-med and medical school at Universidad Iberoamericana, in the Dominican Republic. Following this, she served as a pediatrics resident at Cooper University Hospital of University of Medicine and Dentistry of New Jersey, Robert Wood Johnson Medical School at Camden, New Jersey.

Dr. Iram has researched, lectured and published on a wide variety of topics including sickle cell disease, traumatic brain injury, and the value of brain magnetic resonance imaging in pediatric patients.

Dr. Iram's passion is pediatrics and community medicine. Among her volunteer activities, she has served as a career-day medical presenter focusing on the health and well-being of children at the Lanning Square Elementary School Health Fair. In 2011 she was a medical volunteer for physically challenged children of the Larc School in New Jersey.

In her spare time, Dr. Iram enjoys running, and staying physically active. She has recently moved back with her family to British Columbia, and takes pleasure in appreciating the natural beauty of the Pacific Northwest. She also loves to travel and learn new languages and cultures.