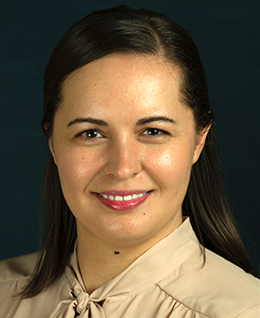 Education
: Master of Health Science in Physician Assistant Studies
Institution
: South College, Knoxville Tennessee
Board of Certification
: The National Commission on Certification of Physician Assistants
Area of Specialty
: Family Medicine
Languages
: English, Russian, Ukrainian
Olesya Mykulyn began practicing as a provider at Sea Mar's Federal Way Medical Clinic in 2017. Before practicing at Sea Mar, she completed her undergraduate work in Biology and Chemistry with a Biochemistry emphasis, graduating with honors from Pacific Lutheran University in Tacoma, Washington.

Olesya has a passion for helping those in need and after working as a Medical Assistant for a few years in Kent, she earned a Master's degree in Physician Assistant Studies from South College. She loves working in a family practice environment; the combination of continuity of care and the unique opportunity to become an active part of a patients' long term health goals is what she believes to be the very essence of good medicine.

Olesya was born in Ukraine and immigrated to Kent, Washington as a child. She has a special appreciation for learning about different culture and customs and hopes this will further improve her ability to provide high quality, evidence-based, patient-oriented care.

On her days off, Olesya enjoys listening to music (especially K-POP), reading literature, watching movies, going to the gym, cross-stitching, and spending time with friends and family.