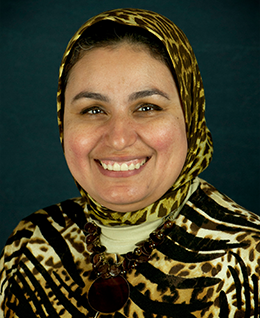 Education
: Doctor of Medicine
Institution
: Alexandria University, Egypt
Board of Certification
: American Board of Obstetrics and Gynecology
Residency
: Upstate Medical University Hospital, Syracuse, NY
Area of Specialty
: Obstetrics, gynecology
Languages
: English, Arabic, French, Spanish
Dr. Rasha Allam joined Sea Mar Community Health Center's Mount Vernon Medical Clinic in 2011. Prior to joining Sea Mar, Dr. Allam completed her obstetrics and gynecology residency at Suny Upstate Medical University Hospital, Syracuse, New York.

Dr. Allam's work experience includes practicing as a resident physician through an OB/GYN internship at the Robert Wood Johnson Medical School, Cooper University Hospital in 2007; teaching as a faculty member in medicine at the University of British Columbia in 2005-07; and serving as a general practitioner/family doctor at the Ministry of Health, Alexandria, Egypt in 1997-2000.

In 2010-11, Dr. Allam also served as an ACOG (American Congress of Obstetricians and Gynecologists) section chair, District II, New York.

Dr. Allam's philosophy of care is that every woman should have access to quality medical care, regardless of her ability to pay for it. This is one of the reasons she enjoys practicing at Sea Mar. Her areas of interest are pelvic organ prolapse and stress urinary Incontinence.

When not practicing medicine, Dr. Allam enjoys travel, camping, swimming, basketball, and cooking.