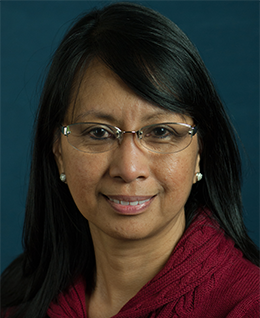 Education
: Doctor of Medicine
Institution
: Far Eastern University Nicanor Reyes Medical Foundation, Philippines
Residency
: Texas Tech University Health Sciences Center, Lubbock, Texas
Board Certification
: American Board of Pediatrics
Area of Specialty
: Pediatrics
Languages
: English, Tagalog, Spanish
Dr. Wilhelmina Santiago began practicing medicine at Sea Mar's Vancouver Medical Clinic in May 2014. She is a board-certified pediatrician and is licensed by the State of Washington as a physician.

Dr. Santiago earned her medical degree from the Far Eastern University Nicanor Reyes Medical Foundation in the Philippines in 1989. Before relocating to the United States in 2004, Dr. Santiago was a practicing pediatrician in the Philippines for many years, with a focus on providing care for underprivileged children. Prior to entering into a U.S. pediatric residency, Dr. Santiago practiced as a registered nurse in the Seattle area for 5 years.

Dr. Santiago completed her U.S. pediatric residency at Texas Tech University Health Sciences Center in 2012. She then worked as a pediatrician in Texas before returning to Washington State to join Sea Mar's Vancouver Medical Clinic.

As a pediatrician at Vancouver Medical, Dr. Santiago's special interests are in community pediatrics and primary care.

When not assisting patients, Dr. Santiago is in her backyard tending to her plants, busy with watercolor painting, or traveling to interesting places.