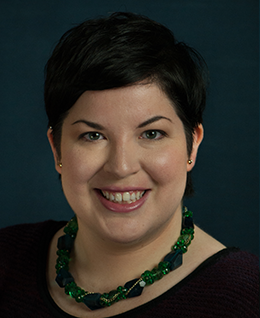 Education
: Master of Arts, Counseling Psychology
Institution
: Northwest University
Area of Specialty
: Child Mental Health Specialist; Multi-Cultural Issues; Women's Issues; Trauma; Anxiety; Depression; Behavioral Issues; Grief and Loss; CBT+ Certified; Children, Adolescents, and Adults
Languages
: English, Spanish
​Angelica De Anda began working at Sea Mar's Bellevue Behavioral Health Center as a Case Manager in May 2011, and transitioned into a role of a mental health therapist in September 2011. In 2017, Angelica became the clinical supervisor for Sea Mar's Seattle Behavioral Health clinic and in 2018 she became the program manager.

Angelica completed her Bachelor of Arts in Music, concentration in vocal and piano performance, as well as a Master of Arts in Counseling Psychology from Northwest University. Prior to working at Sea Mar, Angelica worked for several years as a pre-school and after-school care instructor. Angelica also gained experience working with young adult women as a Resident Assistant while at Northwest University. Angelica also has had extensive volunteer experience working with foster/ adoptive parents and children in the State of Oregon. Angelica's experience in counseling includes providing school based counseling services for children and adolescences, as well as also provided counseling services for individual and groups.

Angelica works with children, adolescents, and families who are experiencing difficulties with their thoughts, emotions, behaviors, life transitions, etc. Angelica takes a cognitive-behavioral approach (CBT) in therapy, as well as utilizes strength-based perspectives, psycho-education, and play therapy/ child-directed play approaches. Angelica also utilizes trauma-focused cognitive behavioral therapy approach (TF-CBT) when working with individuals who have a history of trauma. Angelica is a spirited communicator, who has a desire to help individuals work towards healing, peace, and their goals in order to live the life that they desire.

In her leisure time, Angelica enjoys spending time with her family and friends, working on arts and crafts, engaging in Zumba or Mixed Fit, as well as traveling to foreign countries.