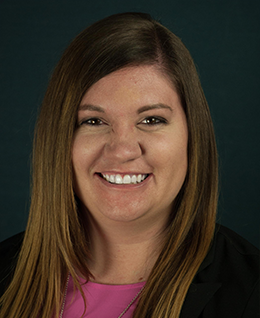 Education
: Masters of Arts in Counseling Psychology
Institution
: Forest Institute of Professional Psychology
Area of Specialty
: Trauma, Anxiety, Depression, Women's Issues, Behavioral Issues, Domestic Violence
​Stephanie Walther began working at Sea Mar's Behavioral Health Center in Seattle, Washington, in February 2017. Stephanie is designated as a Mental Health Professional and is certified as a National Certified Counselor (NCC) by the NBCC.

In 2011, Stephanie graduated from Nebraska Wesleyan University in Lincoln, Nebraska, with a Bachelor of Arts degree in Psychology. During her time in undergraduate school, she worked with domestic violence populations, both domestic violence victims as well as perpetrators. She helped provide to both males and females education, prevention, and awareness in order to diminish future domestic violence incidents and abuse.

In 2013, Stephanie graduated from Forest Institute of Professional Psychology in Springfield, Missouri, with a Master's degree in Counseling Psychology. During her time in graduate school, she was a mental health therapist intern at The Victim Center providing individual and group counseling to all ages to people in need. She also was a victim advocate, providing support to female sexual assault victims.

Before joining Sea Mar, Stephanie worked as a Mental Health Practitioner at Lancaster County Jail, in Lincoln, Nebraska. Prior to working in Corrections, Stephanie worked at OMNI Behavioral Health, which is a home-based community health agency where she provided Intense-Family Preservation Therapy, and Individual Home-Based Therapy. She also facilitated family therapy for Truancy Diversion programs in public middle schools, individual and group therapies for their adolescent group home, and was Interim Director at OMNI's adolescent group home where she was responsible for both administrative and mental health duties.

Stephanie provides an eclectic, person centered, and realistic approach to counseling. Depending on the needs of each client, she makes use of Psychoeducational Therapy, Narrative Therapy, Solution-Focused Therapy, Cognitive Behavioral Therapy, Trauma-Focused Cognitive Behavioral Therapy, and Dialectical Behavior Therapy, among other therapeutic approaches. Stephanie's work experience includes working with children, youth, adults, families, and her experience includes providing counseling and education in correctional, hospital, and case management settings.

Aside from work, Stephanie enjoys travel, food, music, movies, sports, being outdoors, reading, and spending time with family and friends. In addition, she has a personal goal of getting back into volunteering and advocacy, either with Veterans or Domestic Violence survivors.