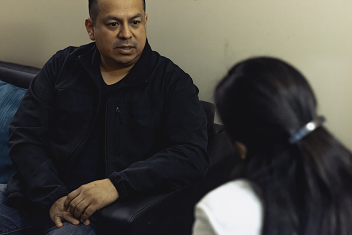 Community Services Northwest (CSNW), a division of Sea Mar since February 2019, is an integral community partner in treating individuals and families struggling with addiction, mental illness and homelessness in southwest Washington.
•
Outpatient Counseling
- For individuals, families and couples.
•
Community Support Team (CST)
- A unique community-based team that is built around providing the services that best fit each client's current needs.
•
Mentalization Based Therapy (MBT)
- Psychodynamic and attachment based therapy to assist clients improve interpersonal relationships, emotion modulation, and holding multiple perspectives.
•
Program for Assertive Community Treatment (PACT)
- An intensive mental health outreach program serving adults with a severe and persistent mental illness (such as Schizophrenia) that are not well served by traditional mental health services.
•
Dialectical Behavioral Therapy (DBT
) - An intensive, evidenced-based treatment designed to help those who suffer from Borderline Personality Disorder—the inability to regulate emotional distress without resulting to extreme or self-destructive behaviors.
•
Illness Management and Recovery (IMR)
- Helps individuals with psychiatric disorders struggle to understand their mental illness, manage their symptoms, and achieve meaningful personal goals.
•
New Journeys program
- Focused on providing critically needed comprehensive treatment to youth and young adults who are experiencing their first episode of psychosis.
•
Wellness Program
- Clark County's only free mental health clinic serving non-insured adults in Clark County. All of our clients' incomes fall below the federal poverty level.
• Co-Ed and Gender Specific Groups
• Youth Chemical Dependency Program
• Co-Occurring Disorders Treatment for Youth and Adults
• Parent Child Assistance Program (PCAP)
• Pregnant and Parenting Women's Program
• Jail Re-Entry Program
•
Housing Programs
– CSNW manages 3 permanent supportive housing programs, 1 transitional supportive housing program and a short-term rental assistance program for individuals and families experiencing homelessness.
•
SOAR (SSI/SSDI Outreach, Access, and Recovery)
- designed to increase access to SSI/SSDI for eligible adults who are homeless or at risk of homelessness and have a mental illness and/or a co-occurring substance use disorder.
Fourth Plain

Address:
1601 E Fourth Plain Blvd
Bldg 17, Ste B222
Vancouver, WA 98661
P: 360.558.5795
F: 360.397.8494

Hours:
7:45 a.m. - 6:45 p.m.
Monday to Thursday


8:00 a.m. - 4:30 p.m.
Friday
39th St.

Address:
317 E 39th St.
Vancouver, WA 98663
P: 360.546.1722
F: 360.823.1093

Hours:
8:00 a.m. - 5:30 p.m.
Monday to Thursday


8:00 a.m. - 5:00 p.m.
Friday
Rose Village
(Formely Town Plaza)

Address:
2502 E 4th plain blvd
Vancouver, WA 98661
P: 360.831.0904
F: 360.433.9917

Hours:
8:00 a.m. - 5:00 p.m.
Monday to Friday