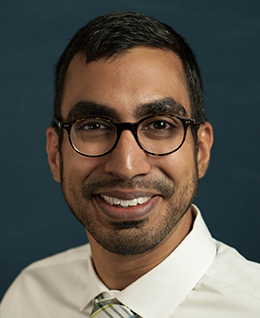 Education
: Doctor of Medicine
Institution
: Brody School of Medicine, East Carolina University, Greenville, NC
Board of Certification
: American Board of Internal Medicine, American Board of Pediatrics
Residency
: University of North Carolina, Chapel Hill, NC
Area of Specialty
: Internal Medicine and Pediatrics
Languages
: English, Hindi/Urdu, basic Spanish
Dr. S. Adnan Mustafa joined the Kent Medical Clinic as a physician provider in August 2014. He comes to Sea Mar after completing a residency in internal medicine and pediatrics at the University of North Carolina at Chapel Hill.

Growing up as a second-generation Indian American in eastern North Carolina, he came to appreciate the intersection of different cultures, and is always looking to gain knowledge and insight from others. After medical school, he obtained an master's degree in public health to better serve patients and understand the social complexities of good health. He believes that true health is multi-faceted and has to be addressed from all angles.

Adnan is dedicated to community-based health. He has joined community projects in settings such as India, Malawi, and the Acoma Pueblo in New Mexico. He also worked locally with various free clinics for the underserved in North Carolina. He believes in health care as a human right and is excited to carry out Sea Mar's mission.

In his free time, Adnan enjoys spending time with his wife, hiking, traveling, reading, playing basketball, and cooking.