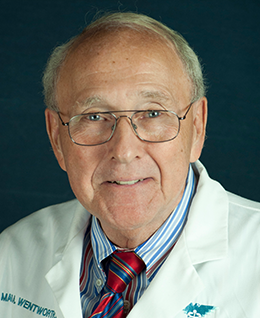 Education
: Doctor of Medicine
Institution
: Boston University, School of Medicine
Board of Certification
: Family Medicine
Residency
: University of Illinois, Rockford, Ill
Area of Specialty
: Family Medicine
Languages
: English, German
Dr. Mark A. Wentworth joined Sea Mar's Olympia Medical Clinic in September 2010.

Dr. Wentworth earned a Doctor of Medicine degree from Boston University's School of Medicine, Boston, Mass. He completed his undergraduate education at The Johns Hopkins University in Baltimore, Md., and completed his residency in family practice at the University of Illinois, Rockford, Ill.

In 1974-84, Dr. Wentworth taught and served as associate clinical professor of family medicine at the John A. Burns School of Medicine, University of Hawaii. While there, he earned an Excellence in Teaching Award in 1980.

Proud of his military service, Dr. Wentworth earned a U.S. Army Commendation Medal in 1976 while serving at the Tripler Army Medical Center in Hawaii. He served for an additional 14 years in the Air National Guard in Hawaii and Texas.

When not practicing medicine, Dr. Wentworth enjoys gardening, reading, traveling and keeping fit.