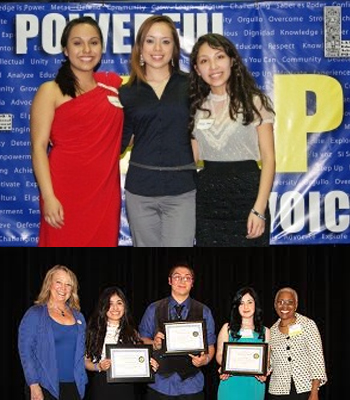 The LEAP1% Scholarship Fund is a statewide initiative of Sea Mar Community Health Centers. Our goal is to help deserving Latino and Latina students afford to go to college.
College affordability is a huge obstacle, especially for low-income students, and it's getting worse. In April 2011, the state legislature is likely to approve a bill that would enable Washington universities to increase tuition between 13-16% during each of the next two years. This is in the making while unprecedented numbers of Latinos are graduating from our high schools as class valedictorians, salutatorians, and honors students. Without financial assistance, the majority of these scholars cannot afford the cost of college, even without the proposed tuition increases.
Many other students are mislabeled "low achievers" and may not see themselves as "college material." They often face daunting barriers such as learning a new language after entering our school system in middle school or later. Still others work long hours after school to support their families, or they take care of younger siblings instead of participating in sports or other school activities.
These are the day-to-day norms, not exceptions, faced by thousands of diligent Latino students who dream of higher education. Their potential is unlimited but too many lose hope. If we invest in them, we can help ensure that hope prevails, their spirits stay strong, and they remain focused on their education. This is what drives the LEAP1% Scholarship Fund.
To learn more about the LEAP1% Scholarship Fund, who it will benefit, and how you can help, see the links below
LEAP@seamarchc.org
113-23rd Avenue S
Seattle, WA 98144
P: 206.965.1057