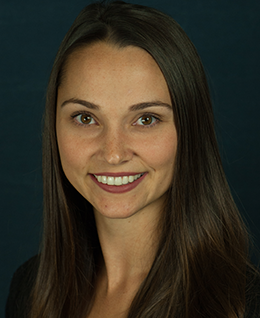 Education
: Bachelor's degree in Nutrition, Master's degree in Nutrition and Clinical Health Psychology
Institution
: California State University Long Beach (Bachelor's degree), Bastyr University, Washington (Master's degree)
Area of Specialty
: Adults, body image, nutritional concerns, under-served populations, mood & relational concerns, identity development
In 2016, Angela Fruhner joined Sea Mar's Bellevue Behavioral Health Center as an intern and was hired as a Mental Health Therapist in 2017.

Angela earned a Master's degree in nutrition and psychology from Bastyr University in Kenmore, Washington in June 2017 and obtained her credentials as an associate licensed mental health specialist in July 2017 and a certified nutritionist in September 2017.

Angela was born and raised in Southern California. As a dancer, her love for movement precipitated an interest in nutrition, inspiring her to complete her undergraduate degree in nutrition and dietetics. As a nutrition counselor, Angela witnessed the impact of psychology on behavior and body image and wanted to learn more about the relationship between these two fields. A professor told Angela about Bastyr University's graduate program that combines both nutrition and psychology. After visiting the school and the beautiful Pacific Northwest for the first time, Angela applied for the program and moved to Washington shortly after. During her graduate program, Angela gained 2 years of counseling experience. She spent 1 year at the Bastyr Clinic for Natural Health in Fremont doing mental health counseling, nutrition counseling, and co-leading the Way to Go program, an 8-week program focused on both mental and physical health and wellbeing. During her last year of her graduate program, Angela interned for Sea Mar's Bellevue Behavioral Health Center working with diverse populations with a wide range of needs and concerns. During this time Angela led the DBT group and a Food and Wellbeing group in addition to providing individual counseling sessions. Angela enjoyed working with the clients and staff at Sea Mar's Bellevue Behavioral Health Center so much that she decided to continue as a full-time mental health therapist in September 2017.

As a mental health counselor and nutritionist, Angela has an understanding of the intersectionality amongst physical health, mental health, and social injustice. She aims to raise awareness and facilitate change in social systems, so that individuals have equal access to health and wellbeing. Angela's therapeutic approach is client-centered, humanistic, and existential. She believes in collaborating with clients to help them explore their experiences, relationships, emotions, thoughts, and behaviors to gain insight, develop skills, and live in a way that aligns with their true values.

In her personal time Angela enjoys yoga, dancing, music, being outside, snowboarding, wake surfing, coloring, playing card/board games, and spending time with friends and family.