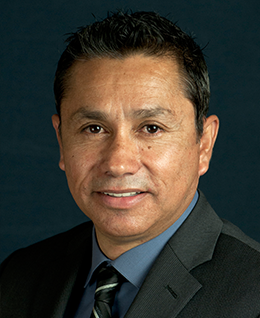 Education
: Medical Doctor
Institution
: Universidad Nacional de Trujillo, Perú
Board of Certification
: Family Practice
Residency
: Cook County Hospital, Chicago, Illinois
Area of Specialty
: Family Practice with OB
Languages
: English and Spanish
Dr. Ricardo Jiménez began practicing medicine at Sea Mar in 1990 and has been medical director since 1995. He continues to practice as a physician, caring for patients at the Seattle clinic.
Dr. Jiménez completed his pre-med and medical doctor combined program and earned a Doctor of Medicine degree at the Universidad Nacional de Trujillo, Perú, in 1982. In 1989, he completed his family residency program at Cook County Hospital in Chicago, Illinois, where he also finished a faculty development fellowship in 1990.
As medical director, Dr. Jiménez oversees Sea Mar's comprehensive health services, using an integrated delivery system model. He also oversees Sea Mar's family-medicine residency program, part of the University of Washington Family Practice Residency Network. He holds a clinical associate professor appointment at the University of Washington School Of Medicine, and has vast experience in lecturing and precepting family-practice residents and medical students in clinical and hospital settings.
Dr. Jiménez has extensive cross-cultural experience working with diverse populations in community health centers. His two primary interests are advancement of students of diverse ethnic backgrounds in the health care field through education, mentoring, advising, and international/global health issues. He is passionate about implementing family-medicine education programs in less-developed countries as a means of improving their primary-care system.
Dr. Jiménez's philosophy of care is summed up as follows: We will excel in providing quality, affordable, culturally sensitive health care to diverse and under-served communities in Washington State. We will provide access to health care for all with the firm belief that each patient is our first professional and individual responsibility, whether man, woman or child; ill or well; seeking care, healing, or knowledge.
When not involved in medicine and education, he enjoys playing the guitar and is a soccer enthusiast. He takes great pride in promoting sports and literacy activities in his native hometown of Sullana, Perú.
SOCIETY MEMBERSHIPS:
American Academy of Family Practice

Washington Academy of Family Practice
King County Medical Society
Washington State Obstetrical Association