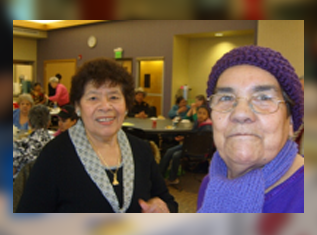 Coordinator: Ninfa Quiroz
Supervisor: Jorge Madrazo

Sea Mar's Latino Senior Information and Assistance Program serves seniors 55 years and older. The goal is to locate community resources within King County that can help seniors maintain a high quality of life. Sea Mar works to help seniors remain independent and productive by keeping them informed, safe, and active. We provide seniors with information and opportunities aimed at helping them in their day-to-day living.


Crisis Health Clinic of King County:
a non-profit organization offering an array of support services available to anyone in King County.
Link:
http://www.crisisclinic.org/211KC.html
Elder Health Northwest Adult Day Health Care:
adult day health programs help frail elders and disabled adults maintain or improve their physical, social and cognitive functioning. Nursing and rehabilitative services combined with social programs help participants stay living at home.
Link:
http://www.elderhealth.org
Alzheimer's Association/ El Portal del Noroeste Project:
helps Latino/Hispanic communities learn in a culturally and language appropriate manner about memory loss, treatments, caregiver self-care and ways to deal with this devastating disease.
Link:
http://www.alz.org/alzwa/in_my_community_13902.asp
Department of Social and Health Services
Link:
http://www.dshs.wa.gov/
Social Security Administration
Link:
http://www.ssa.gov/
Senior Services of King County:
provides King County seniors with information about wellness, nutrition, home repair, senior center activities, day health centers, and home sharing.
Link: www.seniorservices.org
King County Housing Authority
Link:
http://www.kcha.org/home/home.aspx
Seattle Housing Authority:
Link:
http://www.seattlehousing.org/housing/senior/
Aging and Disability Services Administration:
Serving adults with chronic illnesses or conditions and people of all ages with developmental disabilities.
Link:
http://www.aasa.dshs.wa.gov/
Seattle/King County Area Agency on Aging (Aging and Disability Services):
Aging & Disability Services plans, coordinates, and advocates for a comprehensive service delivery system for older adults, family caregivers and people with disabilities in King County.
Link:
http://www.agingkingcounty.org/
Washington Adult Protective Services
Link:
http://www.aasa.dshs.wa.gov/APS/
Seattle Mayor's Office for Senior Citizens:
supports healthy aging, independent living, and social and civic engagement, all to make a difference in the lives of older adults and adults with disabilities.
Link:
http://www.cityofseattle.net/humanservices/seniorsdisabled/mosc/
Copyright ©2010-2022: Sea Mar Community Health Centers